Phoebe's wonderful foster sister (human variety) has made her an update page and Chip-In to help for all her medical care. You can read there what is happening with this poor baby.
PLEASE post this to your Facebook, Twitter, forward along - thoughts, prayers are appreciated and donations are welcome as well. THANK YOU for thinking of little Phoebe.
Click here to go to Phoebe's Page:
http://bdbhphoebe2011.chipin.com/phoebe-er-vet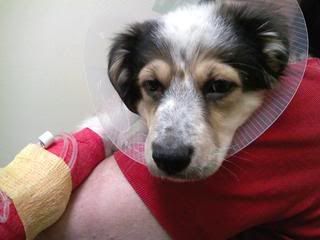 Phoebe says thank you Dawn, Brady and Cooper!